The CCC is pleased to offer scholarship awards to qualified music industry studies majors living in the greater Los Angeles area. The scholarship was first awarded in 2012. In 2013, the CCC renamed the scholarship in memory of former CCC President, John Braheny.
In May 2017 the CCC will provide a scholarship award of $2,500. To apply for the 2017 John Braheny Scholarship, please follow this link to download the application and instructions.




John Braheny

To mail a donation, please send to:
California Copyright Conference
P.O. Box 57962
Sherman Oaks CA 91413
Please indicate "John Braheny Scholarship" in the memo field
Scholarship Requirements:
Applicants must be enrolled as a full-time student in an accredited, music industry studies bachelor degree program located in the greater Los Angeles metropolitan area.
Students must currently be enrolled full-time as a freshman, sophomore or junior, and must enroll as a full-time student for the Fall 2017 school term.
Students must be in good standing (e.g., not on suspension or academic probation) at their university and be making the required minimum progress toward a bachelor's degree.
Winner must be able to attend the CCC Meeting on Tuesday May 9th, 2017 for the official announcement and award presentation.
For additional information contact cccscholarship@sbcglobal.net.
Raul Buenfil Ortiz of Cal State Northridge is the 2014 recipient of the John Braheny Scholarship. (Pictured L to R are Carey Christensen, James R. Leach, Anne Cecere, Raul's grandmother, Raul's mother, Eric Polin, Raul, JoAnn Braheny, Teri Nelson Carpenter, Jeremy Blietz, and Charley Londono.)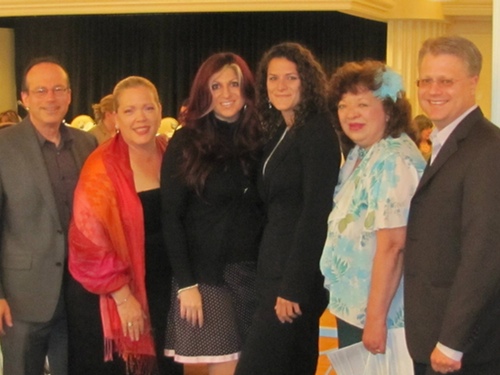 Misty Gambino of CSUN is our first winner of the CCC scholarship in the amount of $1,000. Besides maintaining a 3.73 GPA in her major, Misty is Executive Secretary of her campus chapter of MEISA (Music & Entertainment Industry Student Assoc.) and is a member of Grammy U. Upon graduation, Misty would like to pursue a law degree with a focus on entertainment. She has interned at Rock City Recording Studios in Camarillo. And volunteers for the non-profit Angels In Fur Dog Rescue. (Pictured L to R: Eric Polin (CCC past president), Teri Nelson-Carpenter (CCC past president), Anne Cecere (CCC board member), Misty Gambino, Prof. Jacqueline Salas (CSUN instructor), Carey Christensen (Chairman, CSUN Music Industry Studies)